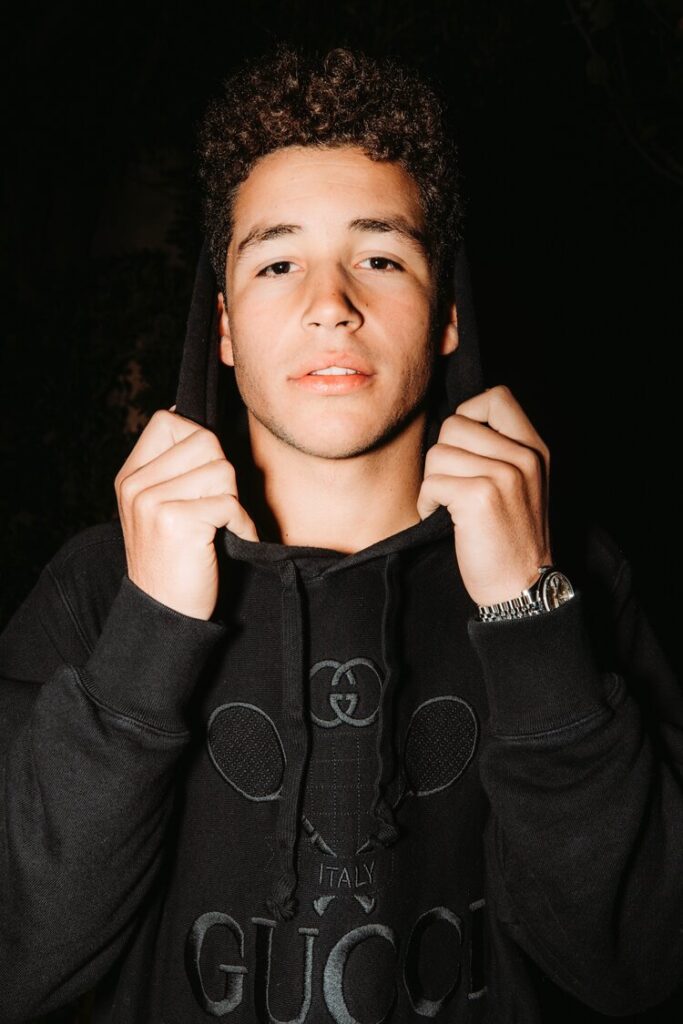 Written by Mitali Shukla
Chapman's Preview Day, for most, is a chance for prospective students to observe campus, get a feel for the student body and imagine what Chapman could hold for them. But for Andrew Liner, Preview Day was marked by an extraordinary moment – when he got a call from his mother and learned that he had landed a role on the hit ABC show "Grown-ish."
"I got called back and I went in with a different mentality," Liner said. "'They already like you so just go in there and be confident; run with it and see what happens,' I thought."
"Grown-ish" is a spin off of the award winning show "Black-ish" that tells the story of the Johnson family. The show follows Dre Johnson ( Anthony Anderson) and Rainbow Johnson ( Tracee Ellis Ross) in the trials and tribulations of raising four kids and maintaining their cultural identity in a climate that emphasizes assimilation.
Dre and Rainbow's eldest child, Zoey ( Yara Shahidi), left the main cast of "Black-ish" in 2017 to star in "Grown-ish," the show focusing on Zoey's experience in college and the relationships within her friend group.
Zoey's friend Skye, played by actress and musician Halle Bailey, is the love interest of Rodney, a down-to-earth guy with a thing for Skye. Rodney is played by none other than freshman screen acting major Andrew Liner.
"(Rodney and Skye's relationship is) very healthy, you can see how she's changing to become a better person throughout the season," Liner said. "They help each other grow which is everything you want in a relationship."
Describing his character as a down to earth guy, Liner told The Panther that his character Rodney is motivated by his want to be with Skye. Originally contracted for just a number of episodes, Liner impressed on screen and was brought on for more episodes.
Although a large part of Liner's identity comes from athletics – he plays on Chapman's tennis team – he said his passion for acting came out of the blue.
"I did a bunch of theatre in high school and kind of honed my craft there. I worked with an acting instructor outside of school as well," he said. "I didn't start out super early like a bunch of kids. Acting just kind of came out of nowhere and I really started to commit to it my sophomore year of high school."
The season three finale revealed that protagonist Zoey intends to drop out of college. When asked if he agrees with her character's decision, Liner found parallels between Zoey's experience in college and his own.
"I was working on "Grown-ish" all throughout first semester until November; I would be going back and forth and it's a lot to balance," Liner said. "(Dropping out like Zoey has) definitely crossed my mind. You do have to weigh in on a lot of things like 'are you ready to be in the real world? Can you just ride on one thing that would be your career?'"
Unlike her character Zoey, Shahidi currently studies social studies at Harvard University after being accepted into every college she applied to.
"Yara goes to Harvard and she's acting so she's completely different than her character," Liner said. "She can balance it, but everyone's different."
Liner told The Panther that the most rewarding part of being on the show was meeting all the people involved.
"You hear (that) shows on set are like families," Liner said. "With 'Grown-ish,' it really is true. The most amazing thing from this experience is making a new family."