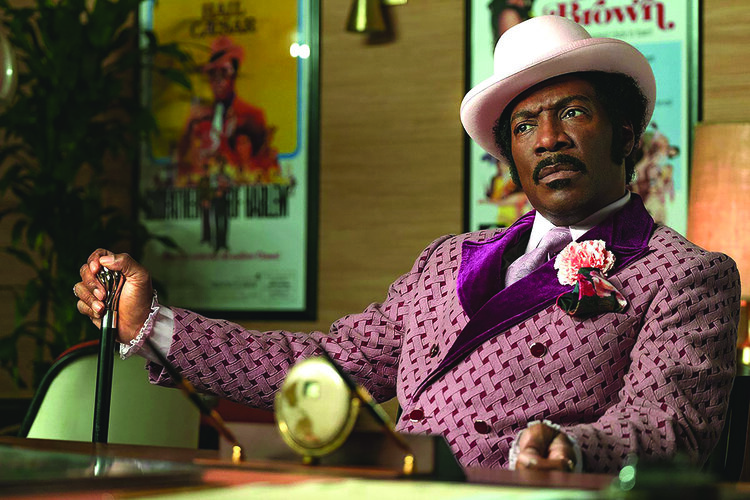 Written by Mitali Shukla
One of many Oscar snubs this year, Eddie Murphy's "Dolemite Is My Name" was an amazing, biopic comedy chronicling the life of the living one-man-show, Rudy Ray Moore. With humble beginnings, working at a record store by day and as an MC at a club by night, Moore made his name in the entertainment industry as his alter-ego Dolemite.
Not only did Eddie Murphy's comeback performance honoring Moore highlights an important movement for black creatives which paved the way for today's revolutionary artists.
Moore began making comedy records as Dolemite in 1970 and performing comedy at the nightclub he used to MC under his pseudonym. Much of his comedic content was derived from what New York Post film critic Sara Stewart regarded as "blaxploitation."
The star-studded cast of the 2019 films included Snoop Dogg, Keegan-Micheal Key, Craig Robinson and Tituss Burgess. Micheal Key was surprising in the more serious role as playwright Jerry Jones – as most of us know the comedian as former president Barack Obama's 'Anger Translator' – while Craig Robinson and Tituss Burgess played close friends of Moore who helped make the breakout Dolemite film.
Discussion regarding the production of "Dolemite Is My Name" began in 2008 when screenwriters Scott Alexander and Larry Karaszewski met with Murphy to discuss how he would be the perfect Rudy Ray Moore, but also how making a Dolemite biopic was a dream project for Murphy, according to The Wrap. The plot of the film was centered around Moore's endeavor to create a Dolemite movie. The cinematic process was broken down to its essential elements.
Following Moore's experience of bringing the movie to fruition, the movie sheds light on important topics for people in film: how to light black actors, how to create a screenplay and how to avoid exploitation by film production companies. Moore's unwavering passion for creating a name for himself is inspirational to viewers of any caliber.
In the movie, film students from UCLA were recruited for lighting and cinematography while actress Da'Vine Joy Randolph's character, Lady Reed, entertained viewers with her blunt comedy.
One of the most heartwarming moments of the film is when Reed thanks Moore for putting her in the movie – although she was initially opposed – because she hadn't seen anyone on the big screen who looked like her before.
While the movie was incredibly entertaining, some of the scenes were drawn out a bit too long – especially those with Wesley Snipes' character. I was even hesitant to discuss the actor or his character, D'Urville Martin, because of Snipes' history of domestic violence during his relationship with Halle Berry, which caused her to go deaf in one ear. Moore's choice to have "Rosemary's Baby" actor Martin as the director was random and he clearly had no good intentions with his participation in the Dolemite film.
Still, "Dolemite Is My Name" is a testament to the legacy of black comedians like Moore, Redd Foxx and Richard Pryor who have had their successes glossed over by modern media. Moore's fame was reignited when rap artists like Snoop Dogg credited him as an inspiration for his artistry. Some even credit him as being the "godfather of rap." His signature rhyming combined the entertainment genres of comedy and music to create an engaging experience that was specifically to provide solidarity among black Americans.