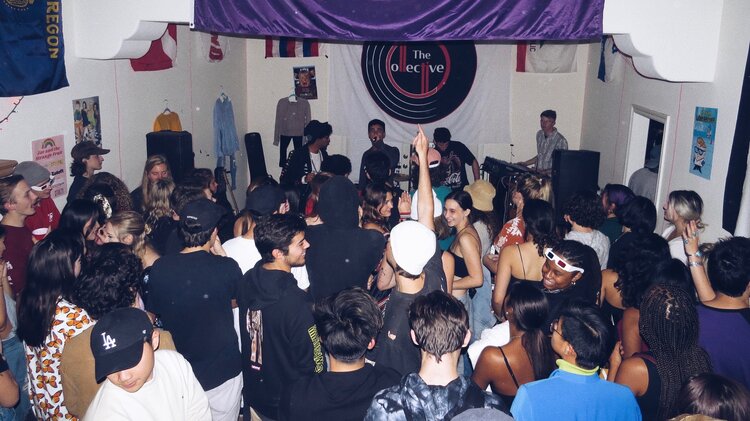 Written by Mitali Shukla
After summer plans for establishing a music and arts festival on campus failed to materialize due to a lack of endorsement from Chapman administration, Phil Mentz, a junior business administration major, decided to change the direction of creating a festival to creating a club. In September, the group coined the name "The Collective," which Mentz leads alongside David Farca, another junior business administration major.
"I came into the semester wanting to start some sort of music industry club," Farca said. "I got some emails saying that there was someone else interested in creating a very similar club, and that's how I ended up meeting Phil."
The Collective's first event Dec. 7 served as a collaboration between musicians, clothing designers, photographers and the showcase's event planners. Upon arrival to the venue, which was held in a Santa Ana home, guests were encouraged to donate clothing prior to heading to either the performance area, the exhibition area, or the backyard. With three locations used for entertainment, visitors could respectively spectate musicians performing, purchase student-made clothing – or photography from Steven Lee, a junior animation and visual effects major – or paint and decorate wooden skateboards.
"You see some kid that you have math class with goes up and plays – it's awesome," Mentz said. "At Chapman, it's really hard to see that part of a person unless they have an Instagram or they promote themselves that way. (The Collective) is a place for any form of art, whether its their major or their hobby."
For guests who attended to hear the wide array of musicians scheduled to perform, the foyer of the venue accommodated roughly 350 people who watched the eight performers of the night. Performers like Daniel Toscano, a junior business administration major who goes by "Mountos" onstage, and Domenick Sevor, a junior communication studies major who goes by Digital onstage, shook the stage with their original rap songs. Sule Murray and Kamari Pope, two junior television writing and production majors, make up the hip-hop duo Maplewood that had the audience bopping their heads along to the beat.
"Our goal was to bring those artists together and create a hub for collaboration to provide the opportunity for overall growth and exposure for artists," Farca said. "The goal is to get as many awesome projects and grow The Collective as much as we can, but keep it weird at the same time and give it our own touch."
In the area adjacent to the music performances, Nate Meadows, a senior business administration major, presented a collaboration between his clothing brand, Rosado, and The Collective with a custom screen printing stencil. Designers also presented their work with the student-created clothing brands Spilt Milk from senior data analytics major Noah Jacobs as well as Nice As Heck from junior public relations and advertising major Cam Daly. Adjacent to the clothing racks, Lee sold prints of his vibrant photography, which was used to decorate the venue. Much of his work consisted of bright, editorial-esque portraits of several Chapman students such as Pope and Lucille Henderson, a junior communication studies major. His work was recently featured in British Vogue.
Mentz said he received an extremely positive response from guests saying that they loved their experience. He added that The Collective didn't expect such a great turnout and everything went smoothly given their extensive, two-month planning.
"The Collective allowed artists to break from their shell and everyone acts as a muse for each other," Mentz said. "Pushing each others' ideas and really turning each idea into a unified vision."
As of Dec. 11, The Collective had 50 members and they intend to recruit more during the spring semester in addition to putting on another event.
"There has been this search for an actual network and community for the people at Chapman to share and put out new stuff on the side," Mentz said. "That allows for collaboration, meeting new people and giving people a way to put on projects that they wouldn't otherwise be able to do. The show was an overwhelming success and everything went perfectly and we had a good turnout, which told us that we were working with something special."