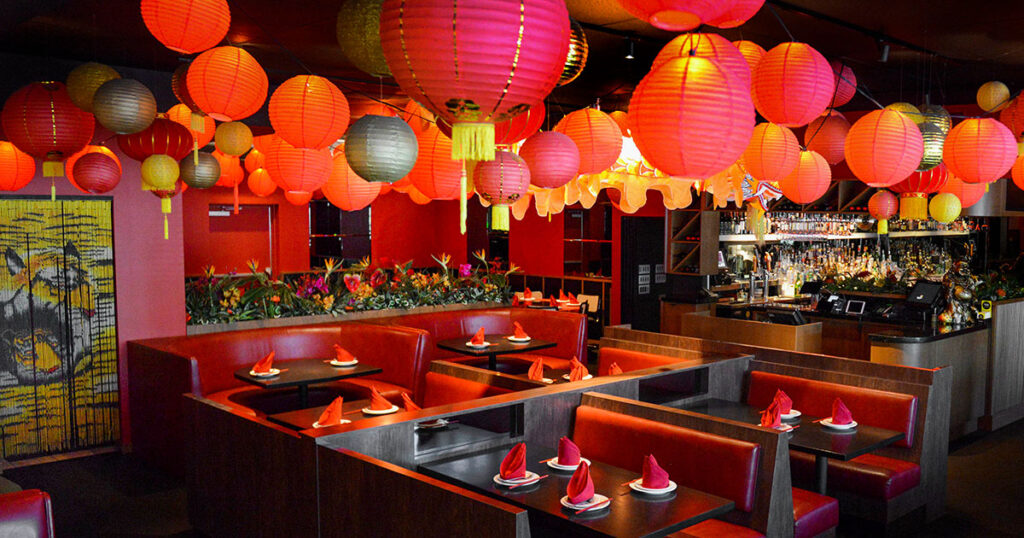 Written by Mitali Shukla
Nearly every local restaurant is currently depending on to-go orders to stay in business. To make it easy for you to find the type of cuisine you're looking for in your area, we've outlined a TON of restaurants offering pick-up and delivery below.
In order to help these businesses further, the LA City Council actually passed a motion yesterday, May 20, 2020, to reduce delivery app licensing fees businesses are required to pay from 30% to a maximum of 15%. The motion also allows delivery app workers to keep 100% of their tips.
So now, go forth, eat up, and support your local restaurants.
---

Special offer: Interested in the delivery of licensed cannabis products? Use code "MAYNIA" for 30% off your first Emjay order. For more offers, view our guide for L.A.'s top cannabis delivery services.
BEVERLY GROVE/ WEST HOLLYWOOD/ Fairfax
Canter's Deli offers authentic deli-style of fresh baked goods and mouthwatering menus for breakfast, lunch, and dinner here in Los Angeles and surrounding areas. This spot is available on Postmates, Door Dash and Uber Eats.
Get free delivery or pickup for orders from Delilah in addition to a 30% off discount off the burgers from 11am to 11pm daily. Order on Postmates or give them a call at 323-745-0600 for additional information.
Fairfax's Genghis Cohen is available for delivery and pickup on Postmates, UberEats, GrubHub, and Caviar from 12 to 10pm daily. Order one of their New-York style dishes like their Eggrolls, their Queen Chicken, and their Szechuan Green beans. For more information, give them a call at (323) 653-0640.
Jon & Vinny's is available for breakfast, lunch, and dinner for takeout & delivery. Their sister restaurants are also available for take away and delivery: including Helen's, Kismet Rotisserie, and Petit Trois.
Although their storefront is still open, Oui Bakery on Melrose offers delivery through Grubhub – where you can get $12 off your first order. Their Chipotle Hoisin Burger has been featured in the Los Angeles Times as one of the Best in LA. Their many changes daily, but they offer salads, sandwiches, and lunch specials that satisfy any cravings.
Get tacos delivered right to your doorstep with Petite Taqueria. They offer free delivery and pickup from 11am to 11pm daily via Postmates. Celebrate Taco Tuesday with 30% off all bowls, according to their Facebook page.
Get free delivery on orders from SLAB using Postmates 11am to 11pm daily! Some of their most popular items include their Mac & Cheese, Tony's Baby Back Ribs, and their Brisket. Check out their full menu here.
Takeout or delivery from The Nice Guy is available through Postmates with free delivery. Order one of their popular items such as their Cacio e Pepe, Rigatoni Bolognese, or their Pizza for 30% off. Take a look at their options on Postmates here.
DTLA
Breadlam is open for take out and delivery. Give them a call at 213-369-0237 or delivery is via Postmates, DoorDash and UberEats!
Chicas Tacos is open for delivery, curbside pickup, and contactless pickup. Give them a call at (424) 321-8226. In addition to their full menu, they are delivering specialty takeaway meal orders for families through the phone, their website, or their app. Use the code "tacosathome" for a 10% discount on your next order!
Lovers of soul food, look no further: Comfort LA offers takeout and delivery through Grubhub. Fried chicken wings, fries, and cornbread can be delivered right to your doorstep with just a few easy clicks. Top it all off with some of Granny's Banana Pudding or Sweet Goodness cornbread cake with fresh strawberries.
Hecho En Mexico is still open for business, but their services are currently limited to delivery or takeout orders from UberEats, Doordash, Grubhub, and Postmates. They announced via their Facebook page yesterday that they are offering free delivery for customers within a 2.5 mile radius of their restaurant. Treat yourself to some traditional Mexican burritos, carne asada fries, or a michelada!
Neighborhood bar Here and Now offers Postmates delivery or pickup for its full food menu; some of their favorites include the Here and Now Burger, their Roasted Shishito Peppers, and their Habanero Chicken Wings. They are taking orders from 5 pm to 11 pm Tuesday through Sunday.
The tiny counter-only outpost for Nashville-style fried chicken, seasonal salads, hearty sides & more. This spot is finally offering delivery! Open from 11 a.m. to 7:30 p.m. on Monday through Saturday, the Postmates page offers a selection of Howlin' Ray's faves.
Known for having almost everything, LA Café is the go-to spot for food delivery! This casual 24/7 counter-service café offers breakfast, American bites, tacos, and even vegan options. Most importantly, they even offer all day and all night delivery in Downtown LA, with a delivery charge of only $3.99.
Downtown Los Angeles' Red Herring offers takeout, curbside pickup, and delivery from 11am to 9pm daily. They are currently accepting phone orders at 213-375-3290. Food delivery app services are still underway, but they recommend checking their Instagram page for more info! Their takeout menu is available here.
Trencher offers phone orders for pickup only at 323-604-9621 or food-delivery through their website via Chownow, Postmates, and UberEats. Although they are currently running their business with a smaller staff, they ask for your patience as they have increased sanitary measures to protect their customers and staff.
Due to safety concerns related to COVID-19, Zinc Cafe has limited its services to take-out and delivery. Get $25 off your first order with EZ Cater or order takeout over the phone. Their most-ordered dishes include the Margherita Pizza, Eggplant Parmesan, Zinc Salad, and the Fresh Fruit Tart.
You can order this French cuisine straight to your door from Caviar, DoorDash, and Postmates. Use their promo code SZOROW for $10 off your Caviar delivery.
This Koreatown burger joint is open for takeout and delivery through their website. Order a classic burger or sandwich, or order off of their new "burger kit" menu, which includes patties for you to prepare at home.
Ktown Pho has your Vietnamese comfort food cravings covered. Order their wagyu pho, spring rolls, or banh mi for delicer, or pick up from their Koreatown location.
ECHO PARK/ EAGLE ROCK/ LOS FELIZ
Little Dom's restaurant and deli will be offering takeout and delivery through Caviar. Aside from their full menu, they added new items such as the $25 3-course PanDOMic menu as well as fridge and freezer goodies like soups, sauces, jams, bottles of wine and beer. Their takeout hours are between 9am to 10pm.
Oinkster's slow fast food is available for delivery and takeout via phone orders at (323) 255-6465 or through food-delivery apps such as Postmates, Chownow, Caviar, and UberEats. You can even place your order through their website or their Facebook and Instagram pages! Order one of their most-loved dishes like classic ⅓ pound hamburger, the Cluckster sandwich, or the Oinkster Pastrami Sandwich.
Woon offers homestyle Chinese food with free delivery on your first order through Caviar. They offer options for a wide variety of dietary restrictions such as vegetarian and vegan diets. Their Beef and Veggie Noodles are a hit with customers in addition to their fried rice.
The popular food pop-up Goldburger is back! Starting May 14, the pop-up will take place At Highland Park with a six-month residency that will offer takeout and delivery every Thursday through Sunday.
HOLLYWOOD
Sunset Boulevard's best pizza spot offers delivery or pick-up through Postmates and Doordash. Their Vegan Margherita Pizza is perfect for those who want a healthier option; their best-sellers include the classic Pepperoni Pizza by the slice, Nonna Pie, and their Buffalo Wings with homemade ranch. Wash it all down with their Frostie Orange Soda or the Kickapoo Joy Juice.
One of Hollywood's favorite spots for a night out is bringing the night out to you! Curbside pickup and delivery available starting on May 28, and weekly, Wednesday through Sunday from 5-9pm. Now accepting preorders for pickup.
Located in the Everly Hotel in Hollywood, the Jane Q restaurant is open for takeout and delivery through Postmates and Caviar. They currently have brunch and dinner available. Take a look at their menu here.
Pickup options are now available directly thought the restaurant & delivery via Grubhub and Postmatesfrom 9 am – 7 pm. call 310-362-6115 to place your order for their tasty pastries and lunch items.
Bludso's is offering takeout and delivery options for regular menu offerings. Frozen options are available along with worldwide shipping.
MID CITY
Honeybee Burger is taking precautionary measures by not only closing their dining room and temperature-checking their employees prior to their shifts. They also eliminated their kiosks to provide touchless ordering on their new app where you don't even need to swipe your card. Order Honeybee takeout online with Order For Me, where they ensure your food is double-wrapped to ensure safety.
The Cali-Asian fusion restaurant Piccalilli is open for takeout Monday through Saturday from 11am to 8pm. Order favorites like their Brussel Sprouts, Whole Shrimp and Sweet Potato, Confit Pork Shank Sandwich, and their Bangkok Chicken Katsu Sandwich. Take a peek at their full takeout menu here.
Sonoritas is open for online orders from 11:30am to 9pm on their website. Treat yourself to their most popular goodies such as their carne asada burrito, Modelo Michelada, or their Mar y Tierra quesadilla.
Winsome's new Playa District location offers delivery through Postmates or phone orders at 310-883-3932. Their open hours are from 7am to 3pm on Monday through Friday. Order their Prosciutto Tartine, Grilled Chicken Salad, or their Falafel Sandwich.
DoLA users, you can get a special discount from our friends at Delicious Pizza on your next order! Use code DoLA20 to receive 20% off any large or small pizza when you order directly from the restaurant's site.
MULTIPLE LOCATIONS
Yes, we're happy to announce that you can bring your favorite bowl home from Cage Gratitude. DoorDash delivers this vegan special home to you and the menu includes salads, sandwiches, bowls and more.
Looking to sustain your Mango Cart addiction? Golden Road still offers online orders through Grubhub, Doordash, and Seamless. They are accepting phone orders at (818) 243-2337.
Featured on our Tastiest Soup in Los Angeles list, Jinya Ramen Bar is a favorite spot of ours that just so happens to deliver. Noticing the lack of ramen in LA, Tomonori Takahashi created Jinya to share his authentic Japanese flavors to LA. You can order this tasty bowl directly from their site, Uber eats, Door Dash and Postmates.
Pizza is the standard choice for delivery but you can't wrong with a slice from Joe's Pizza. Large and in charge, Joe's pizza is the perfect pie to bring home. You can order this directly from their site.
Your favorite breakfast and brunch spot has 24/7 takeout hours or delivery through UberEats, Grubhub, DoorDash, and Postmates. Kids eat free for takeout orders with the purchase of a regular entrée. Take a peek at their menu here.
With locations in West and South Los Angeles, Roscoe's Chicken and Waffles offers delivery options through Postmates, UberEats, Grubhub, and Doordash. Their takeout menu is available here. If chicken and waffles aren't what you're in the mood for, they also offer classics like rice & gravy, mac & cheese, and fries.
Sam's offers a variety of delivery and pickup options through services like UberEats, Postmates, DoorDash, GrubHub, and Caviar. Get $3 off orders of $15 using Postmates, free chicken tender bites with orders through UberEats, free delivery with DoorDash, free chicken tender bites, and free delivery when you order through GrubHub, or free delivery through Caviar. Check out their menu here.
We know what you're thinking! Yes, delivered sushi does seem a little fishy but, Sugarfish promises to deliver the highest quality food both in-restaurant and at home. The restaurant serves only traditional sushi boxes based on Chef Nozawa's style and delivers through their own mobile site and Postmates.
Sampas is a Brazilian-Italian fusion restaurant, selling Italian and Brazilian pizzas as well as classic pasta dishes. Order takeout from their Marina Del Rey and Lomitas locations, or get it delivered straight to you.
WESTSIDE/Santa Monica
This Santa Monica Pier spot brings the Caribbean to Los Angeles with their tasty chicken. Though the jerk chicken is the star of this spot, we also suggest bringing home their yummy vegetarian options. You can order this meal from their site and Cha Cha Kitchen is available in Santa Monica and Northridge.
They offer takeout and delivery, and you can download their app as well.
From the farm to your plate and now to your home, Holy Cow BBQ is the latest LA eatery that hopped on the delivery train. This barbecue joint has some of the finest cuts of meat, poultry, and fish out there. So whether you're in the mood to "hang-out or take-out" they got you covered on their site.
Santa Monica's The Gallery hosts several restaurants in their area. During this time, STRFISH, Azulé Taqueria, Supertoro, POP!S Burgers & Shakes is offering their tasty food on Postmates, Doordash and Uber Eats.
Full menu available for pickup and soon to be delivery on ChowNow & Postmates (this week) | Call 310-310-3616 from 12 – 8 pm for pickup from 4-8:30 pm.
Pasjoili is offering takeout only! Order from their casual takeout menu with items like hot chicken, a grilled cheese, a burger, pizza, desserts, and more. You can also order large-format cocktails and bottles of wine.
Delivery options through Postmates and UberEats via their Malibu location. Pick-up their tasty offerings such as lobster rolls, clam chowder, caesar salad, and seafood stew.
This Japanese okonomiyaki restaurant located on Sawtelle is now offering both takeout and delivery. Order from their classic okonomiyaki menu, or grab a variety of other kinds of delicious Japanese noodle dishes.
This Marina Del Rey diner offers all the breakfast classics, from biscuits and gravy to breakfast tacos to a kale scramble. They are offering both takeout and delivery.
Now, you can get some good Hawaiian comfort food delivered straight to your doorstep. Rutt's most popular menu items include their Katsu Chicken and Savory Short Ribs. You can also drive by their Marina Del Rey location for takeout.
Paco's Tacos cantina is offering their classic Mexican fare for either takeout or delivery. Get a burrito, a few tacos, or one of their native dishes.
This plant-based Venice cafe is currently open for both curbside pickup and delivery on Postmates, GrubHub, DoorDash, and Caviar. From their all-day breakfast menu to their pizza menu to fresh squeezed juices, they've got all your cravings covered.
This Venice market/cafe is offering their to-go and dry goods menus for either pickup or delivery on both UberEats and DoorDash.
Pickup or order delivery from this Aussie-run casual dining spot. Their menu includes classic breakfast staples from avocado toast to acai bowls. Plus, for every frozen meal purchased, they will donate one to a local shelter or hospital.
Westwood
This Iranian Restaurant is located in the heart of LA and is offering both takeout and delivery up to 5 miles. Order some of their delicious Persian signature dishes!
Come try their tasty Mediterranean cuisine including their mouthwatering falafels, Rotisserie, Shawerma, Kabobs and more! Crazy Falafel is now offering direct delivery within 5 miles (for free).
Italian eatery offering pastas, steaks & wines. You can order for pick up and delivery through Eat Streets and Postmates.
This Westwood dumpling restaurant is offering both takeout and delivery. Order off of their extensive dumpling or noodles menu.
SAN GABRIEL
This San Gabriel eatery offers all kinds of traditional Peruvian fare, from Leche de Tigre to Lomo Saltado. Now, they are offering both takeout and delivery straight to your door.
Get your bubble tea fix or a snack for either takeout or delivery through UberEats, GrubHub, or Postmates.
This Indonesian/Singaporean/Malaysian fusion restaurant's menu includes various delicious noodle and rice dishes. They are offering their full menu for both takeout and delivery.
This Korean chicken and pizza joint is taking takeout and delivery orders. Their hours are normal, besides Thursdays, Fridays, and Saturdays, when they will only be taking orders until 12:30 am.
Southbay
This healthy farm-to-table restaurant has something for everyone, whether you be vegan, vegetarian, or gluten free. Order now for pickup or delivery through DoorDash.
Gumtree cafe prepares their food with locally-sourced and sustainable ingredients. Right now, order anything off their menu 20% off with free local delivery and free shipping on orders over $100.
This Manhattan Avenue restaurant specializes in burritos, with both a breakfast and a lunch menu. They are open 7 days a week for online ordering, Monday to Fridays 7am-2:30pm and Saturday and Sunday 7am-3pm.
Jus' is a Redondo Beach restaurant known for authentic, Hawaiian poke made with fresh, local ingredients. They are serving takeout and offering an online ordering option.
This Torrance-based Mediterranean restaurant offers a variety of classic Greek dishes and is now offering the option to order online.