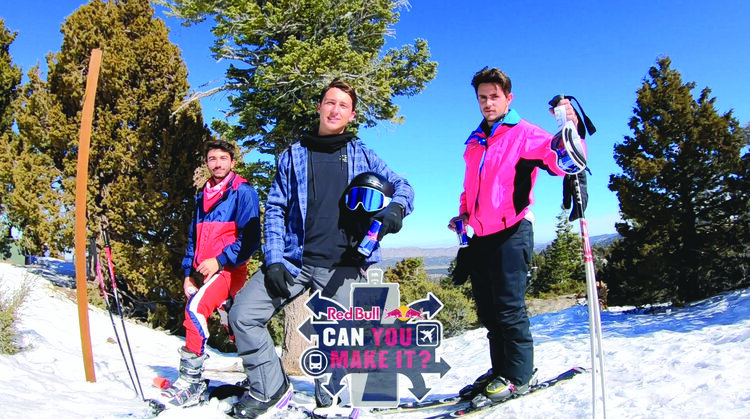 Written by Mitali Shukla
For many people, going a week without a phone, credit cards and cash is unfeasible – especially while traveling across Europe. Chapman Phi Delta Theta fraternity brothers Andrew Bauer, John Joyce and Devin Nava are doing just that using only Red Bull as currency. Together, they make up a team they call the OC Moment Makers, and they believe they have what it takes to reach Berlin from one of five starting locations in Europe.
From April 20 to 27, Red Bull plans to fly out 600 teams from different countries to a starting location, Budapest, Amsterdam, Barcelona, Copenhagen or Milan. Only a third of the teams from each country are selected to compete. The OC Moment Makers submitted a minute-long video entry which has amassed over 4,000 views on YouTube as of Feb. 23.
"The US has sixty teams," Bauer said. "So only 15 teams from the U.S. will get sent off to (the locations in) Europe."
In terms of their preference of where to start, the OC Moment Makers have a consensus that they're ready for whatever the challenge will bring.
"Drop us off anywhere," Joyce said. "We'll get to Berlin."
At the beginning and at each designated checkpoint, the teams are provided a 24 pack of Red Bull to use as currency. Players are encouraged to trade Red Bull cans for transport, lodging, and everything in between. Teams can earn points by completing the Adventure List and Checkpoint Challenges in addition to receiving a high social score. The more points they earn and checkpoints they pass, the more cans of Red Bull the teams can receive.
"They evaluate (your success) on the challenges you complete as well as the crowd following you have," Bauer said. "Not how long it takes you to get to Berlin."
The prize for the first-place winner is undisclosed, according to the OC Moment Makers, but since the event is sponsored by Hyundai, they predict that the grand prize may be a car. For second and third place, however, they anticipate a cash prize.
"We're all really close and we all have the same mindset in that we're committed," Nava said. "The kind of people that if you ask us to do something, we're there."
Matthew Johnson, a sophomore business administration major, recruited the rest of the group for the challenge because he believed the thrill-seekers would be a good fit. Johnson works as a part of Red Bull's field marketing team. Team members are required to be college students over the age of eighteen. "Matt's been like a manager for us," Bauer said. "He's been kind enough to edit our video."
The three heard about the event from Johnson and were inspired to embrace the challenge. They were able to connect with one another through their fraternity. Bauer, a junior software engineering major, said that it was difficult for them to come up with a name, but they eventually settled on the OC Moment Makers because they wanted to represent Orange County and Moment Makers seemed to stick.
Nava, a junior business major, is a frequent cliff jumper and recently obtained his skydiving license; Bauer and Joyce joined him to create footage of the three cliff jumping in Little Corona as well as traveling to Big Bear to get skiing footage for the video entry with the use of GoPros and drones.
When asked if they were nervous to give up their money and their phones, the OC moment makers were more focused on the task at hand.
"Giving up our phones and wallets are the least of our worries," Bauer said. "We're more worried about housing and food and not (consuming) Red Bull for breakfast, lunch and dinner."
Voting for teams opened on Feb. 18 and ended Feb. 24. Voters were allowed to cast a vote once every 24 hours up until the final voting date. The event is going to be filmed as a reality show akin to "The Amazing Race," according to Bauer.
"A lot of people have traveled to Europe, but I don't think anybody could say they've given up everything to get across Europe with only Red Bull as currency," Nava said. "It's a once in a lifetime competition."