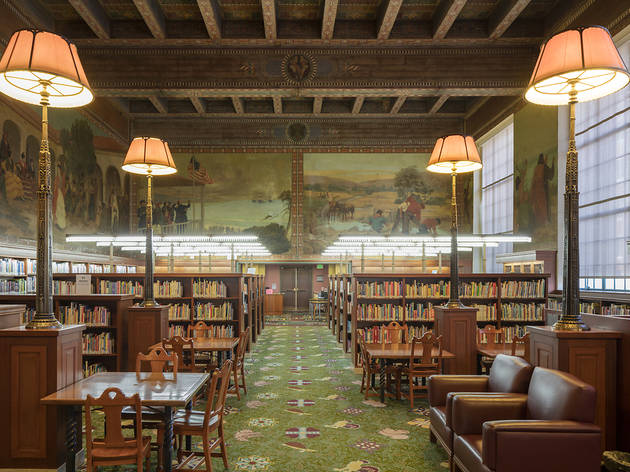 Written by Mitali Shukla
Both the LA County Library and the LA Public Library are making it super easy to stay busy during Los Angeles's Safer at Home order. By simply signing up for a free digital library card online, you can access books galore, movies, language-learning resources, and more—all for free! What are you waiting for? Now's the time to read that book you've always wanted to dive into.
LA County Library
The Los Angeles County Library is offering temporary digital library cards which are valid for 90 days. Individuals can get access to all of their digital resources including eBooks, audiobooks, magazines, movies, TV, homework help, online classes, and more. Begin by filling out their application here. Once completed, you will receive an email with your library card and PIN number within one business day.
What You Get Access to With Your Digital Library Card:
Access to all digital resources such as eBooks, audiobooks, magazines, movies, and TV
eBooks through Overdrive
Music through Freegal
Digital Media likes movies & TV through Kanopy, Hoopla, and RBDigital
Video Classes through Lynda.com
Instructor-Led Courses through Gale Courses and Universal Class
Live Tutors through Brainfuse
Test Prep through Learning Express
Language Learning through Mango
Research Databases
LA Public Library
The Los Angeles Public Library is offering Los Angeles city residents immediate access to their digital collections without having to visit a Los Angeles Public Library location through an e-card. Note that if you already have a full-access library card, you do not need an e-card. Fill out their application here to get access to all that they offer!
What You Get Access to With Your E-Card:
E-Media: Download or stream e-books, audiobooks, movies, documentary films, music, podcasts, newspapers, and magazines.
Research & Homework: Access newspaper archives, genealogy tools, professional magazines, and scholarly journals.
Online Learning: Enroll in an online course, learn a new language, take a practice tests, or access Lynda.com.
Once you've completed the application, you will instantly receive your e-­card number by e­mail. Within 2 weeks, you will receive a postcard in the mail asking you to confirm receipt of your e-­card number and verify your postal address. You must reply to this postcard by telephone or e-mail to maintain your e-­card valid for the 3 year term. For more information, check out their website.