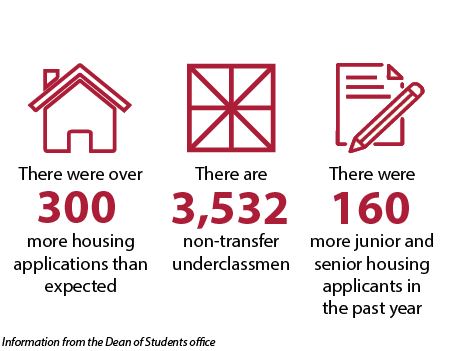 Written by Mitali Shukla
Justin Kim, a sophomore film production major, received a July 23 email from Chapman Residence Life and First Year Experience with an offer he couldn't refuse: a $500 refund on his housing deposit and the opportunity to live outside of university-regulated property.
"A month ago, a friend and I were planning to room together at Chapman Grand in a two-story townhouse," Kim said. "We got an email saying that Chapman will let us keep our housing grant, so we decided to move off-campus." Chapman received over 300 more housing applications than expected, said Dean of Students Jerry Price, which led to the overbooked space intended for all underclassmen.
"We don't have as much cushion as the data leading into last year may have suggested, even though there were 200 empty beds in Chapman Grand last year," he said. The issue may stem from the newly implemented policy that requires freshmen and sophomores to live in on-campus housing. Because of the high volume, some students who qualify for an on-campus housing grant were allowed to keep it if they forfeit their housing assignment.
Whether students were originally signed up to live at Chapman Grand, The K, Panther Village, Sandhu, Davis or Harris apartments, they were given the chance to find a place to live off-campus while still reaping some benefits.
"My friend and I were in a situation where we needed to save money," Kim said. "Chapman Grand was a little difficult to afford, so we ended up giving up our housing assignment and went to find a place to live off-campus." Price stated that sophomores who were initially denied release from the two-year requirement in the spring are now able to live off-campus. Dave Sundby, the director of Residence Life, said in his July 23 email that there is a "continued high demand" for university housing and that students can keep up to $1,500 on their financial aid package. Sundby did not respond to The Panther's multiple requests for comment.
"First year students in particular benefit from living on-campus socially and academically," Price said. "Returning students are more equipped in finding their own housing." This year's retention rate for the sophomore class went up from 90 to 93 percent, according to Price, which contributed to the lack of on-campus housing. The acceptance of 42 more transfer students than last academic year and an estimated 160 more juniors and seniors wanting to live in on-campus housing also tipped the scales.
"All of these things are good things, but collectively all at once, it created a bit of a crunch," Price said. Due to the release of many sophomores from the two-year housing requirement, the amount of sophomores living on-campus dipped from 80 to 70 percent, but Price anticipates that the following year, Residence Life will be able to better predict and account for more second-year students.
"The K is almost entirely sophomores," he said, with 336 sophomores and 51 juniors and seniors. "Chapman Grand is 40 to 45 percent juniors and seniors and the rest are sophomores and transfers." Kim added that his choice to live off-campus was completely voluntary and that it was a better deal to save money off-campus. Some Chapman students were relieved that they were able to revoke the two-ear housing requirement, so they had the chance to live where they want.