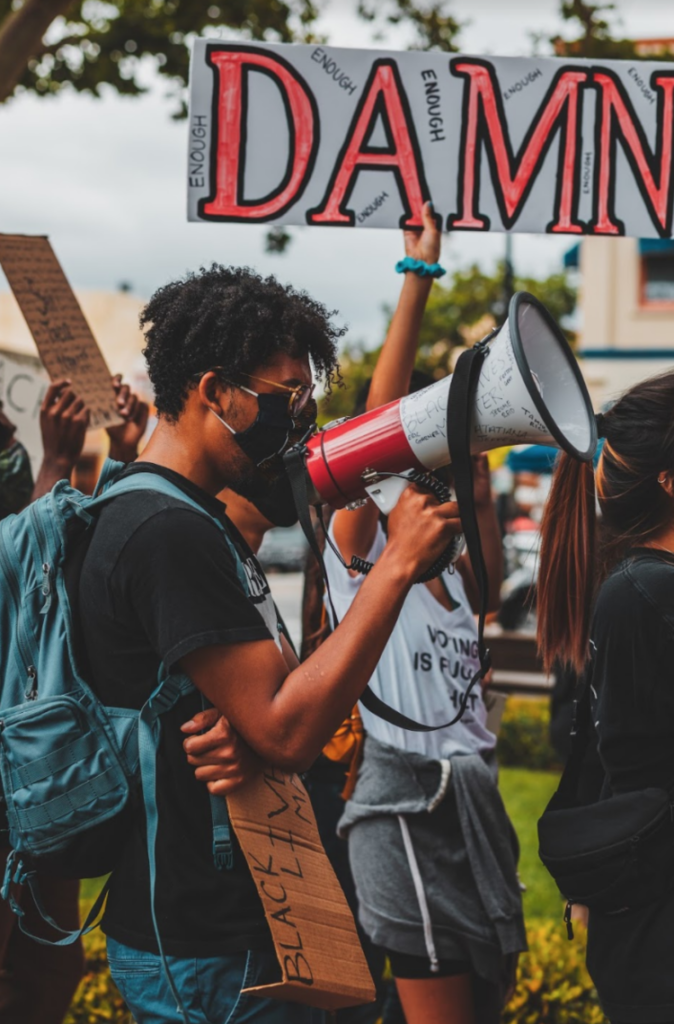 Written by Mitali Shukla
Posted on The Panther on August 16
Sule Murray, a senior television writing and production major, was sitting in a friend's hot tub after attending a Black Lives Matter (BLM) protest in Newport Beach, California. He and his friends felt unfulfilled despite their enthusiasm for the BLM movement, so they wanted to keep the momentum going by organizing a protest in Orange.
"We all met at one of our houses after the protest and had all this high energy; we were really excited about everything that was going on," Murray said. "They said, 'I feel like we could be doing so much more and I'm tired of just waiting around – why don't we start our own?'"
In a matter of three days, Murray and his friends organized a peaceful protest June 6 in the Attallah Piazza at Chapman University. From there, they marched to the center of the Orange Plaza, where an estimated 150 to 200 protestors gathered. Chapman students and the Orange community alike congregated to protest, carrying signs reading "Black Lives Matter," "No Justice, No Peace" and "Say Their Names" among others.
The protestors were also met with opposition during the event: two agitators verbally harassed demonstrators to the point where the protestors all kneeled down until the offenders were escorted away by bystanders. A video posted on Instagram June 7 showed protestors facing Chapman's Leatherby Libraries and silently kneeling in solidarity for BLM.
The event gathered momentum and encouraged activism sparking the establishment of the Orange County Change Coalition (OCCC), a youth-led group that is a sister branch from the original Seattle Change Coalition (SCC). The SCC started as a group "dedicated to ending systems of oppression … hear each other's voices, build community, and come together in the fight against systemic racism."
Isaiah Jeannot, a sophomore self-designed pre-law major, founded the SCC after organizing a Seattle youth protest June 4 in response to the death of George Floyd on May 25.
"I couldn't just sit in my house all day," Jeannot told The Panther. "I couldn't just sign petitions and donate money. I called a group of people that I worked with in high school and it started with, 'We should do a protest.' We got a huge platform right after and … we started the Seattle Change Coalition."
Murray and Jeannot met through Chapman's Black Student Union. Through their big/little program, they became close and Murray was inspired by Jeannot's work with the SCC. The two had the idea that Murray could create a sister branch of Jeannot's organization in Orange County.
"We had already decided we didn't want this to stop with one protest. I was inspired by the youth (group) in Seattle and how they were taking things on the ground-level; they weren't waiting for anyone to give them advice or give them the go-ahead," Murray said. "I got on a bunch of FaceTime calls with (Jeannot), he gave me a lot of good advice."
On June 27, OCCC organized another march in support of the Black LGBTQIA+ community during pride month. Approximately 200 to 500 protestors, according to Murray's estimate, flooded the sidewalks and streets with colorful signage as they walked from the Attallah Piazza to the Orange Plaza once again. Murray spent three weeks planning the protest across the country from his home in New York.
As the country makes its reckoning with institutional racism, both Murray and Jeannot believe that Chapman as an institution has a lot of work to do. Murray cited Chapman's lack of regard for their minority population and said he is wondering whether the administration will act on the diversity and inclusion efforts they say they will enact upon.
"Chapman, to me, is the definition of the liberal who would be like, 'Oh, I support these marches but why are they burning down their own communities' or, 'We shouldn't get rid of pieces of history,'" Murray said. "They don't go hard enough in my opinion."
While he does believe the university administration cares, he said institutions like Chapman don't change without pressure – that students are just as much educators as the faculty, administration and professors. However, much of the activism work does fall on those shoulders of the students.
"I do genuinely think that a lot of people in the administration have good intentions and they do want to make a change; they're just really slow and they don't know how to do it," Murray said. "While they care enough to make a change, I feel as though whenever they hit a couple of roadblocks, they give up."
Murray recounted how in community forums and in summer discussions with administration on the #ChapmanDoBetter campaign, they would ask for perspectives on what should be done. But Murray doesn't think that community opinion actually factors into what changes are put in place; community action is what will dictate the future.
"We are living in our own civil rights movement right now. We are the people right now, the youth who will be in history books," he said. "We are living a moment in history, so you don't want to be the person who's silent in the midst of this."